Our Grapevine Plumbers Let Service Do the Talking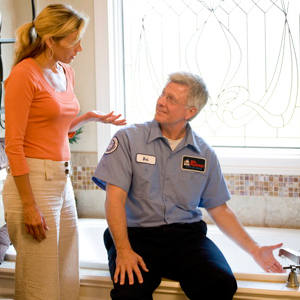 We don't use tacky or overused taglines to sell our services. You won't hear us claiming to offer "service with a smile." Our Grapevine plumbers aren't all business either. We like to think that we are simply a group of down to Earth guys who happen to specialize in plumbing. We treat you like a friend, or like a neighbor, and many of our customers are both. We are always professional and courteous and strive to give you only the best service experience, every time.

We achieved this standard by only hiring professionals with personalities that fit in with our company beliefs. Customers are the reason we are in business, and we never forget that. Without the customer, there can't be a business. Our Grapevine plumbers do everything in our power to make your plumbing experience enjoyable (or in the case of an emergency, less traumatic). We do this by getting straight to the point, talking to you as a person, not a problem, and understanding that even though we deal with them every day, plumbing problems can be extremely frustrating for you to deal with.

---
We Are Full Service Plumbers in Grapevine Texas


Low Flow Fixture Installations
Hydro Jet Drain Cleaning
Full Repiping Services
Water Leak Identification and Repair
Kitchen Fixture Repair and Replacement
Floor Drain Inspections
Water Line Location Services
Toilet Repair
Augering (Snaking) Services
Septic Tank and Drain Field Maintenance
Non-Invasive Interior Leak Detection
Commercial UpFit service
BackFlow Device Certification